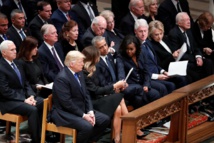 When the plane Bush piloted was shot down in September 1944 in the Pacific Ocean, and he was waiting in the water for rescue, the 20-year-old Navy lieutenant "felt the weight of responsibility as a nearly physical burden and he wept," Bush biographer Jon Meacham said.
From that point on he asked himself nearly every day why he was saved. "The story - his story and ours - would go on by God's grace," Meacham said. "The rest of his life was an effort to prove himself worthy."
"To him his life was no longer his own," Meacham said. There were "always more missions to take on, always more life to live and more love to give."