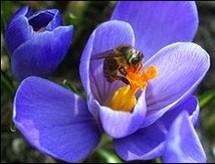 Pollinators account for 9.5 percent of the value of worldwide agricultural production, according to France's National Institute for Agricultural Research (Inra).

Its paper is published in the journal Ecological Economics.
The research coincides with mounting concern in Europe and the United States about devastating losses to bee colonies.

If bees were wiped out, the impact for the consumer would be between 190 billion and 310 billion euros (273 and 446 billion dollars), expressed in higher prices as a result of lower production, the study says.
These estimates do not take into account indirect environmental impacts deriving from bee extinction.