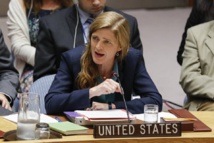 Ms. Power knows something about barbarism and responsibility. In 2001 she published a
searing account
in the Atlantic about the Clinton Administration's failure to stop the 1994 genocide in Rwanda, in which as many as 800,000 Tutsis were killed over three months by their Hutu neighbors.
Ms. Power spared no one in her depiction of the Administration's "almost willful delusion" about the killing, its diplomatic prevarications to avoid using the word "genocide," and its concern with how U.S. intervention would play in the midterm elections. She was particularly tough on U.S. officials who "were firmly convinced that they were doing all they could—and, most important, all they
should
—in light of competing American interests and a highly circumscribed understanding of what was 'possible' for the United States to do." The essay was titled "Bystanders to Genocide." Ms. Power later expanded the article into a book, "A Problem from Hell: America and the Age of Genocide," for which she was widely praised.
Barack Obama
read the book and promoted her rise in government.
Fast forward to the present, and Ms. Power can sound like those officials she once scolded for thinking they were doing everything they could given the complexities of the situation.
"Well, Syria is a very complex picture," Ms. Power
told
CBS
earlier this month. "There are thousands of armed groups. The question again of what military intervention would achieve, where you would do it, how you would do it in a way where the terrorists wouldn't be the ones to take advantage of it—this has been extremely challenging. But the idea that we have not been doing quote anything in Syria seems absurd. We've done everything short of waging war against the Assad regime and we are, I should note, having significant success against ISIL on the ground."
Ms. Power's list of achievements in Syria might seem grimly funny to the more than 10 million Syrians driven from their homes in the civil war and the families of its 400,000 dead, most killed by the Assad regime. The starving residents of Aleppo and other besieged Syrian cities also know that until last week the Obama Administration was eager to team up with the Russians—going so far as to share critical battlefield intelligence—so they could jointly attack Islamic State targets, thereby further freeing the Assad regime to do its dirty work. Another stab at U.S.-Russian cooperation hasn't been ruled out.
President Obama bears ultimate responsibility for doing so little to stop the five-year Guernica that is Syria, and we don't know what Ms. Power's private policy advice has been. But in public she has become an echo of the officials she once denounced for justifying American inaction in the face of mass slaughter. The honorable decision would be to resign.