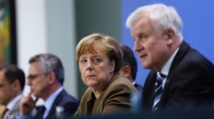 Merkel's coalition government has been assailed by internal squabbles, poor polling figures and state election disappointments - most recently in Bavaria two weeks ago - since national elections last year.
The CDU's projected result on Sunday, its worst in the state since 1966, not only places further pressure on the national government, it also means that the CDU's decades-long tenure of leading coalition governments in Hesse may be over.
The environmentalist Greens, currently in coalition with the CDU, are projected to win 19.7 per cent of the vote. Though the result is a significant boost on their 11.1-per-cent vote share in the last state election in 2013, their gains may not be enough for another CDU-Greens coalition.
The far-right Alternative for Germany (AfD), which has succeeded in capturing centre-right voters and non-voters across Germany - is projected to win 12.8 per cent of the vote in Hesse. In 2013, the AfD failed to clear the 5-per-cent parliamentary hurdle.
The result means that the AfD is now represented in the last of the country's 16 state parliaments where it was not yet present, marking a major milestone for the 5-year-old party.
According to exit polls, the only possible constellation of parties that have enough votes to form a coalition are the CDU, the Greens and the pro-business Free Democrats (FDP). They have a joint vote share of 54.3 per cent, according to exit polls.
After last year's national election, coalition talks between those three parties ended in a spectacular fashion when FDP leader Christian Lindner walked out, saying: "It is better not to govern than to govern in the wrong way."
Speculation has been rife in the run-up to the Hesse poll as to whether another electoral blow to the CDU may cause Merkel to step down as party leader, but German Finance Minister Olaf Scholz dismissed that claim on Sunday.
Speaking at an event in Hamburg, Scholz of the centre-left SPD said:
"I am not a spokesman for Mrs Merkel, but [she] has told the public that she has been elected for the entire legislative period."