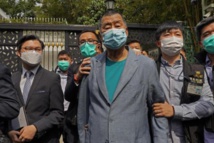 The referendum asked members to vote whether to take action against Beijing's new national security law, which critics say will undermine freedoms in Hong Kong that are not available in mainland China.
Unions required 60 per cent or 60,000 of their members to vote in favour of strikes, but just 9,000 votes were registered. Ninety-eight per cent opposed the national security law, while 95 per cent voted in favour of strike action.
Hong Kong's trade unions have played a major role supporting workers during the anti-government protest movement. Many are dissatisfied with the government's response to the protests and its response to the coronavirus pandemic.
Meanwhile in Beijing, China's central government said it would set up a "National Security Defence Commission" in the city with the goal of "supervising, directing, coordinating and supporting" the local government's "fulfilment of its national security defence obligations."
The new law sets out to intercept, stamp out and punish acts in Hong Kong that threaten national security, and includes action against secession and subversion activity and foreign interference and terrorism.
Also on Sunday, state-run Xinhua news agency reported that China's top law-making body, the National People's Congress Standing Committee (NPCSC), would meet again for three days starting on June 28.
Although the national security law does not appear on the schedule approved by NPCSC chairman Li Zhanshu, Hong Kong's sole NPCSC delegate Tam Yiu-chung said it would likely be discussed, the South China Morning Post reported.