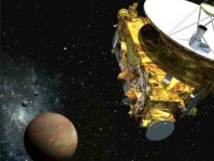 Trudeau announced an investment of about 2 billion Canadian dollars (1.5 billion US dollars) over 24 years for Canada's space programme, describing it as a "cornerstone of Canada's new, ambitious space strategy."
The Lunar Gateway is being designed as an outpost that will provide living space for astronauts, a docking station for visiting spacecraft and laboratories. Canada's role will be to develop a robotic system that will repair and maintain the gateway, Trudeau's office said in a news release.
NASA has been studying the outpost concept with partners in US industry and the International Space Station. NASA is planning to launch the Lunar Gateway's power and propulsion element, the outpost's initial component, in 2022.
In addition to the power and propulsion element, the outpost will have habitation, logistics and airlock capabilities. NASA envisions sending humans to the outpost by 2028.
Plans for returning humans to the moon come as the 50th anniversary of astronauts Neil Armstrong and Buzz Aldrin approaches. The two Americans walked on the moon in July 1969.
Mars missions took centre stage over flying to the moon in the past few decades, but President Donald Trump has shown renewed interest in flying to the moon. Other countries, including Russia, China, South Korea, Japan and India along with the European Space Agency, are working on various lunar missions.