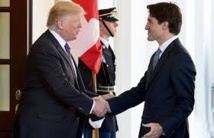 "Canada has no choice but to retaliate in a measured, reciprocal, dollar-for-dollar response," Canadian Foreign Affairs Minister Chrystia Freeland said Friday at a steel manufacturing facility in Hamilton, Ontario, also known as Canada's Steel Town.
The new tariffs on US products including steel and aluminium, worth some 16.6 billion Canadian dollars (12.8 billion US dollars), will take effect Sunday, just as Canada celebrates its 151st birthday, the minister said.
"Canada has been measured and restrained in its response," Freeland said, arguing the US tariffs were illegal under World Trade Organization (WTO) rules and under the North America Free Trade Agreement (NAFTA). "We will not escalate and we will not back down."
The eclectic list of American products that will be slapped with punitive tariffs on Canada Day includes maple syrup, bourbon whiskey and soy sauce, household appliances and lawnmowers in addition to steel and aluminum.
"Where possible, we have sought to put products on the list that can be easily sourced from either Canadian or non-US suppliers," Freeland said.
The list is also designed to inflict maximum political pain on the Trump administration by targeting industries in key states that were instrumental in delivering the White House to Donald Trump, said Karl Littler, vice-president of public affairs at the Retail Council of Canada.
For example, chocolate is on the list. As it turns out the Republican congressman for Hershey, Pennsylvania, home of the Hershey chocolate brand, is retiring and that's an open seat that Republicans could lose, Littler said.
However, experts warn Canada's tit-for-tat salvo of punitive measures not only risks further infuriating President Trump, whose administration is already threatening crippling tariffs on Canada's auto industry, but could also hurt Canadian retailers and consumers.
Canada's recently signed Comprehensive Economic Trade Agreement (CETA) with the European Union could provide some relief, but not enough to substitute completely products made in the United States, Littler said.
"The issue is not only will the price go up on the shelf, but if the economy stumbles or the growth rate diminishes, then you're also going to see a shrinking Canadian wallet," Littler said.
Then there is the US Commerce Department studying the possibility of imposing tariffs based on Section 232 of the Trade Expansion Act of 1962 on the grounds of national security, the same section that was used to justify tariffs on steel and aluminium.
"A 25 per cent tariff on cars and parts would cause what we like to call 'Carmageddon,'" Flavio Volpe of the Auto Parts Manufacturer's Association told the Parliamentary international trade committee this week.
The industry operates on single-digit margins and it would grind to an immediate halt with a 25 per cent increase in price, he said.
"A 32,000-dollar car — that's an average price here — would immediately be unsalable at 40,000 dollars," Volpe said.
Around 80 per cent of cars made in Canada are exported, with most of them going to the US.
When asked on Friday what will happen if the Trump administration retaliates with more tariffs against Canada's auto industry, Freeland said it would be absurd.
"I think that is an issue where it is absolutely imperative that common sense should prevail," Freeland said. "Having said that, our approach from day one of NAFTA negotiations has been to hope for the best but to prepare for the worst."
Canada is "ready really for pretty much anything," she added.
Notepad