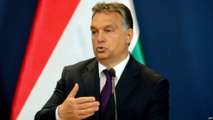 Both Orban and Stubb are members of the center-right European People's Party (EPP), the largest bloc in parliament. Stubb is running to be the party's top candidate, which could allow him to become commission president next year.
If Orban fails to respect the party's values, he has to leave the EPP, said Stubb, speaking to the German media group Redaktionsnetzwerk Deutschland.
Stubb said he has zero tolerance for intolerance, and called Orban's restrictions on freedom of expression, assembly, and scholarship absolutely unacceptable.
In September, the European Parliament voted to start a sanctions process against Hungary on grounds the country is in "serious breach" of fundamental EU values, a move that could lead to a loss of EU voting rights.
That vote, however, also opened up a divide in the EPP. Stubb's rival for the top party post, Germany's Manfred Weber, backed the sanctions vote but argued against expelling Orban. For his part, Orban is backing Weber.
Weber and Stubb will meet next week in Helsinki, where the EPP is holding its party congress. If it holds on to its majority in parliament after EU elections in May 2019, its party-list candidate could succeed Jean-Claude Juncker as commission president.
In his comments Saturday, Stubb also backed German Chancellor Angela Merkel on migration, praising her for helping forge an agreement with Turkey in 2016 to stem the flow of refugees fleeing Syria.