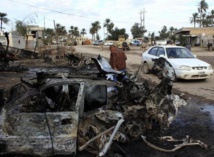 At least 19 people were wounded in the attack in the northern city of Kirkuk.
The bomber detonated his car at the main gate to the warehouses, a source with the Kirkuk police told dpa.
Nine police officers, six members of an anti-terrorism force and four civilians were wounded, the source said, adding that no damage was done to the ballots boxes.
Iraq's electoral commission said on Saturday that a manual recount of the ballots will kick off on Tuesday in several provinces beginning with Kirkuk, an ethnically mixed province where claims about widespread irregularities were reported.
Iraq has been in the grip of a sharp row over the results of the polls amid allegations of fraud. The May 12 election marked the first time an electronic vote-counting system was used in the country.
The recount will be limited to the polling stations named in the legal challenges, a step aimed at saving time and expediting the formation of a new government in Iraq.
The recount is expected to cover around 1,800 out of Iraq's 50,000 polling stations.
The polls were Iraq's first since Baghdad declared victory over Islamic State militants in December.
An alliance led by influential Shiite cleric Moqtada al-Sadr won the biggest number of seats, in a blow to a bloc led by incumbent Prime Minister Haider al-Abadi. However, no bloc won a clear majority to be able to form a government alone.
A week ago, al-Sadr said that his bloc had agreed to form an alliance with al-Abadi's bloc, which finished third in the May 12 election.