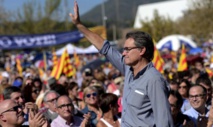 The Thursday announcement by Roger Torrent could set separatist elements in Catalonia on a fresh collision course with the central government, as Catalonian lawmakers have indicated they will pick former president Carles Puigdemont.
When Torrent nominated candidates on Monday, Puigdemont's was the only name entered.
Puigdemont was ousted from power in October after he spearheaded the Catalan government's attempt to declare independence. He fled to Belgium and faces arrest on charges of rebellion and sedition should he return to Spain.
By sidelining Puigdemont and calling new elections, Madrid had hoped it would be able to curb the separatist leanings in the region. That plan backfired when the December 20 vote saw pro-independence politicians take a majority.
Puigdemont has hinted he could govern virtually, attending meetings by video or acting through a deputy. The legality of such an arrangement is unclear.
The debate on the new president will start at 3 pm (1400 GMT) on Tuesday.