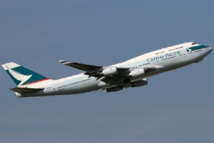 Hong Kong's flagship airline announced Wednesday that the breach involved sensitive data including names, birth dates, passport numbers and contact details.
"We are very sorry for any concern this data security event may cause our passengers," the airline's chief executive officer Rupert Hogg said in a statement.
"We acted immediately to contain the event, commence a thorough investigation with the assistance of a leading cybersecurity firm, and to further strengthen our IT security measures," he added.
Cathay initially discovered "suspicious activity on its network" in March, it said in a stock exchange filing late Wednesday.
Unauthorized access to "certain personal data" was then confirmed in May, the company added.
Legislator Charkles Mok, who represents the IT sector in Hong Kong's Legislative Council, told the South China Morning Post that the delay between the discovery of the breach and its announcement was "unacceptable."
Mok added that in the European Union new regulations require companies to disclose a data breach within 72 hours.
The airline said that it had "no evidence that any personal information has been misused."
Cathay Pacific ranked number eight in the world as a "first class airline" in the 2018 World Airline Awards.