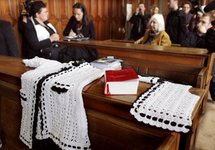 World Tricot founder Carmel Colle is seeking 2.5 million euros (3.7 million dollars) from Chanel for alleged counterfeit after she spotted a crochet design in a Chanel boutique in Tokyo in 2005 that she claims is hers.
The design had been previously submitted to Chanel's studio and rejected, Colle claims.
"There have been hurtful things said about my so-called management but I am happy. I have gone all the way to the end and I have confidence in justice," Colle said after the hearing.
A judgement will be given on December 11, the president of the Paris commercial court said.
Opening the hearings in Paris, World Tricot lawyer Pascal Crehange said: "This is not a routine trial.
"It is a trial for skilled artisans because they are the ones who toil in silence. It is the recognition of their creative work that is at stake."
Founded in 1987 in the town of Lure in eastern France, World Tricot claims that Chanel stole the simple knit cable design with black edging and used it for a vest.
But Chanel lawyer Gerard Delile said the fashion house was the "sole proprietor" of the vest design and that World Tricot has "a technical expertise" that does not extend to creative design.
Delile complained that World Tricot was seeking to play the victim and unfairly portrayed its complaint as a "David against Goliath battle" -- a small firm of manual workers against an international fashion giant.
World Tricot is also accusing Chanel of illegally terminating a contract after the fashion house began drastically cutting down orders to World Tricot following Colle's complaint.
Chanel contends that it works with some 270 suppliers and that this is the first time it has been targeted in a complaint from one of them.
A former community organiser, Colle created her firm with some help from charity foundations and with a view to hiring jobless women from an economically-depressed region of eastern France.
Soon she found herself in business with such top names in haute couture as Christian Dior, Christian Lacroix and Givenchy, providing high-quality workmanship.
The contract with Chanel however was a crowning moment for Colle and the fashion house became her main customer.
"Madame Colle is the first woman with the courage to stand up to a major fashion house and say 'this work is mine'," said Crehange. "Chanel does not do knitting."
World Tricot's financial woes have mounted since the clash with Chanel and in 2007 it was put into receivership.
The firm now employs only 12 people compared to 90 in 2001.
--------------------------------------------------------------------------------------------------------------------------------
Image: AFP/Patrick Kovarik.