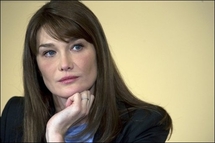 But during her two-day stay in Rio de Janeiro, accompanying her husband on an official voyage, her own focus will be more on her charity work -- and catching up with the Brazilian side of her family.

While Sarkozy will be working through a series of meetings and talks, Bruni will be catching a glimpse of the difficult life lived by millions of poor Brazilians, especially women, and their efforts to improve their lot.

As part of her commitment to use her fame to help humanitarian causes, Carla Bruni-Sarkozy on December 1 became a "world ambassador" for the Geneva-based Global Fund to Fight AIDS, Tuberculosis and Malaria.

Her itinerary on Monday puts her in a Rio hospital that houses a mothers' milk bank, a facility partnered with France's Pasteur Institute that provides breast milk -- sterilized to prevent possible HIV transmission -- to malnourished newborns.

In bank's network of 200 branches across Brazil, 115,000 women give milk that is distributed to 140,000 babies in need, the director of the Ibero-American breast milk bank, Joao Aprigio Guerra de Almeida, told AFP.

Bruni's visit, he added, "will give a higher profile."


On Tuesday, the French First Lady will go to a slum, the Pavao-Pavaozinho favela, above Rio's famed Copacabana beach, to observe a model Brazilian intiative called Crianca Esperanca that tries to lift children out of poverty.

The former model will then return to the catwalk -- but this time not to strut her stuff. Instead she will be watching a show by Moda Fusion, a Franco-Brazilian association that promotes ethical fashion and showcases the creativity of women from Brazilian slums.

"The support of Carla Bruni and the French government will give greater importance to what we do in the favelas and ethical trade," one of the women running the association said. She declined to be named.

Access to those stops have been restricted to just a small group of journalists and photographers, frustrating much of the Brazilian press, which had been hoping to get close to Bruni, who, in the words of the Rio daily O Globo, "attracts glances wherever she goes."

Some media outlets are especially keen to cover the glamorous visitor, given that her Christmas-time sejourn will take in two important occasions: her 41st birthday on Tuesday, and a reunion with her biological father, an Italian businessman who lives in Sao Paulo.

Bruni discovered the existence of her natural father, Maurizio Remmert, only in 1996. He shuns journalists, but said in a rare interview that after his long absence in his daughter's life the two now have a "very good" relationship.

Following the official part of their visit, France's first couple are to spend a week of vacation in Brazil, up to December 29, with Bruni's family. In an undisclosed location.