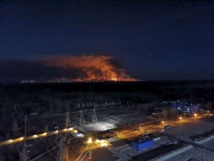 The firefighters were working to contain smouldering brush fires in at least five locations, according to a statement by the State Emergency Service.
Another 1,000 firefighters were working in the nearby Zhytomyr region as the extinguishing efforts have been complicated by abnormally dry and windy conditions.
Environmental experts have feared that the fires could stir up radioactive ash, potentially blowing contamination-laden smoke to Kiev, about 100 kilometres south of the devastated Chernobyl power plant.
The 1986 reactor meltdown and explosion at Chernobyl is considered the worst nuclear disaster in history.
Federal authorities have attributed smokey air in Kiev in recent days to fires in the Zhytomyr region, assuring that the radiation levels in Kiev are within an acceptable range.
"The radiation background in Kiev and the Kiev region is within normal limits and does not exceed natural background values," the State Emergency Service said on Tuesday, reiterating an assessment it has repeatedly announced in recent days.
A senior environmental official, Egor Firsov, said amid the beginning of the fires earlier this month that radiation in the Chernobyl zone was detected at 16 times higher than normal background levels.
Notepad