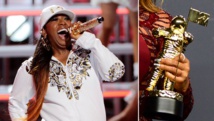 Jaar, who lives in New York, was cited for "bringing to the fore the ethics of representation."
Jaar questions "the way we use and consume images, while pointing to the limitations of photography and the media to represent significant events," the five-member international jury added.
He is due to receive the award, worth 1 million kronor (100,000 dollars), on October 19, along with a diploma and a gold medal.
In a statement, Jaar said the award would give him "the support and strength to continue my journey in these dark times."
An exhibition of Jaar's work is scheduled to open on October 20 at the Hasselblad Centre in the Swedish west coast city of Gothenburg.
Jaar was born 1956 in Santiago where he studied architecture and filmmaking. He left Chile in 1982, then under military rule.
Among his well-known works is his Rwanda Project (1994-2000), where he epxplored "the silence, indifference and inaction" to the 1994 genocide in the central African country and "the limited capacity of art to represent tragedy," the foundation said.
Jaar's work has been shown at the Biennales in Venice and Sao Paulo, and at museums in New York, Chicago, London, Rome, Milan, and Berlin.
The award was named after Victor Hasselblad (1906-78), the inventor of Hasselblad cameras, which have been used in NASA space programmes and by many famous photographers.
Former winners include Robert Frank, Josef Koudelka, Richard Avedon, Sebastiao Salgado, Henri Cartier-Bresson and Ansel Adams.