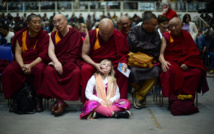 Several Chinese travel agencies told dpa on Wednesday that foreigners would be unable to travel to there until after the deadline.
They said the closure was due to a "government order" while others cited the Tibetan New Year, which was celebrated on February 5 this year.
Tibet lies on a plateau between 3,600 and 5,200 metres above sea level and is known as the "roof of the world."
From the 15th century, the Buddhist kingdom developed into a monastic state with the Dalai Lama as head and Lhasa as the capital.
In 1950, the newly-founded People's Republic of China invaded Tibet and in 1965 created the Tibet Autonomous Region.
As Tibetans feared the abduction of their leader, an uprising broke out on March 10, 1959, during which time the now 83-year-old Dalai Lama escaped with his followers into exile in India.
China has repeatedly denied tourists access to Tibet prior to important political meetings or anniversaries.
More than 100 Tibetans have set themselves on fire in recent years to protest Chinese policies of forced assimilation in areas home to the ethnic minority.