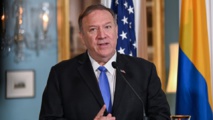 "Pompeo made a speech in which he carried out a malicious attack on the Chinese Communist Party and China's social system, and made groundless accusations against China's domestic and foreign policies," Foreign Ministry spokesman Wang Wenbin told reporters.
Wang said Beijing had taken particular affront to Pompeo's choice of location for the speech, the Richard Nixon Presidential Library in California.
Nixon, who Wang called an "icebreaker," is well-known in China for visiting paramount leaders Mao Zedong and Zhou Enlai in 1972 and restoring diplomatic relations.
Wang accused contemporary US politicians of deliberately provoking "ideological disputes" in order to "divert the attention of the American public by slandering and suppressing China."
In Pompeo's speech on Thursday, he also lashed out at China for having "ripped off our prized intellectual property and trade secrets."
He argued that Beijing is drawing jobs away from the US and using "slave labour" practices.
"I've met Uighurs and ethnic Kazakhs who escaped Xinjiang's concentration camps," Pompeo said, referring to what China describes as "re-education camps" to counter alleged terrorist ideologies in ethnic minorities.
Pompeo's allegations come as apparel companies including Adidas, Amazon, and Zara have been urged by an international rights groups to end ties with suppliers operating in Xinjiang due to allegations of forced labour.