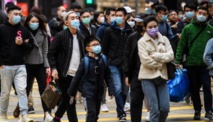 Families will only be permitted to send one family member out of the house every two days to buy necessities, according to city authorities. Residents have been advised not leave their homes except to seek medical treatment or related reasons.
Wenzhou in Zhejiang province joins the 14 cities in Hubei that remain on lockdown as deaths from coronavirus reached more than 300 nationwide on Sunday.
Widespread travel restrictions have been unable to stop the spread of infections, with the number of confirmed cases standing at 14,380.
The Philippines on Sunday reported the first fatality outside China from coronavirus.
A 44-year-old Chinese man died on Saturday after falling ill in late January. He had travelled to the Philippines from Wuhan via Hong Kong with a Chinese companion on January 21.
More than 100 people have fallen ill with the virus in about two dozen countries across the globe. German authorities announced on Sunday that at least two people repatriated from Wuhan by the army were confirmed to have the disease.
On Thursday, the World Health Organization declared the outbreak to be a global emergency.
With markets due to reopen on Monday after the Lunar New Year break, China's central bank on Sunday said it would inject 1.2 trillion yuan (173 billion dollars) into the economy to maintain liquidity.
The People's Bank will use reverse repurchase agreements to provide the extra funds, a common tool used by central banks to shore up money markets in times of need.
The stimulus is intended to give Chinese companies breathing room as factories, offices and schools are due to remain shuttered next week for safety reasons following the end of the Lunar New Year holiday.
The measures are also expected to calm markets amid fears of a mass sell-off of shares on Monday morning.
To boost the fight against the virus on the ground, China is deploying hundreds of military staff and students to run a new 1,000-bed hospital in Wuhan to treat coronavirus patients.
Meanwhile, more news is emerging about how the virus is able to spread.
Chinese researchers said the virus could be transmitted from person to person through the digestive system, according to Xinhua news agency, after reports that some patients had displayed only diarrhoea symptoms rather than classic viral symptoms like a fever.
Experts from the Renminbi Hospital of Wuhan University and the Wuhan Institute of Virology of the Chinese Academy of Science reported their findings after studying patient stool samples and rectal swabs, the news agency said.
Diarrhoea symptoms may make fecal-oral transmission of the virus more likely, especially if there is inadequate hand-washing or sanitary facilities. Public squat latrines are common in parts of China.
The coronavirus broke out at a seafood market in Wuhan that reportedly sold exotic animals for consumption - similar to the outbreak of SARS.
SARS, a disease that infected 8,000 people and killed 800 globally and also began in China, was linked to the consumption of civet cats, another exotic meat. The coronavirus belongs to the same family of viruses.