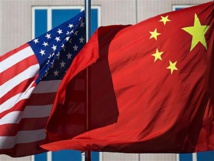 The Chinese Commerce Ministry issued a statement minutes after the tariff increases took effect, saying that "China deeply regrets it will have to take necessary countermeasures." The statement did not expand on what the measures will be.
The tariffs affect consumer goods like suitcases and furniture along with certain food items. So far in the past year, the US has slapped tariffs on 250 billion dollars' worth of Chinese goods, while China has retaliated with duties on 110 billion dollars' worth of US imports.
The Chinese government doesn't have much room to impose fresh tariffs, as US goods exports to China totalled 120.3 billion dollars in 2018, but could find other ways to penalize US businesses in China.
On Thursday, Vice Premier Liu He, who is leading the Chinese delegation to Washington, told state broadcaster CCTV that increasing tariffs was "very unfavourable to both sides."
"I came with sincerity," Liu said ahead of the talks, adding that he hoped to resolve differences "honestly, confidently and rationally."
The talks began Thursday evening in the US capital and were set to resume Friday.
Trump announced the duty increase on Sunday, saying the move was necessary because trade negotiations were moving too slowly. On Wednesday he also accused Beijing of breaking provisions of the deal negotiated thus far in several rounds of talks.
The US is angry over a trade gap with China that has vastly expanded in recent decades to about 419 billion dollars.
Washington has also accused China of unfair trade practices, including intellectual property theft, forced technology transfers and favouring domestic firms over foreign companies.