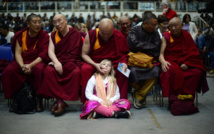 The Dalai Lama was just a "political figure," Zhang Yijiong, deputy director of the Communist Party's United Front Work Department, said on the sidelines of the 19th Communist Party Congress in Beijing on Saturday.
The Dalai Lama's European travels last month were a "severe insult" to the feelings of the Chinese people, Zhang said. The visit contradicted the Dalai Lama's assurances that he recognized the sovereignty of Beijing over Tibet, he said.
The now 82-year-old Dalai Lama fled into exile in India in 1959 after the Tibetan Uprising, a revolt against Chinese control.
In 1965, Beijing established the Tibet Autonomous Region, though it is only about half the size of the territory claimed by the Tibetans.
The week-long Communist Party Congress is due to end on Tuesday with the election of the Central Committee, a decision-making body.
The 2,287 delegates are also expected to add President Xi Jinping's "thought" to the constitution, elevating him to the stature of the party's foremost thinkers, Mao Zedong and Deng Xiaoping.
On Wednesday, Xi is due to announce the appointment of new members of the Politburo and the Politburo Standing Committee, an all-powerful group that includes the president.