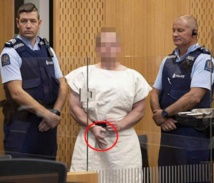 Clad in a white prison suit and wearing no shoes, the 28-year-old Australian smirked when media photographed him in the dock, the New Zealand Herald reported. Photos showed him making an "okay" hand gesture during his appearance, a symbol often used for signaling support for the white supremacist ideology.
"He appeared very calm and took a lot of time to survey the media and lawyers," Radio New Zealand's Annekke Smith said, adding that the man did not seek bail or to have his name suppressed. He was remanded in custody until April when the case will go to the High Court in Christchurch.
Judge Paul Kellar allowed photos to be taken but ordered that his face be blured to preserve fair trial rights. The courtroom was closed to the public.