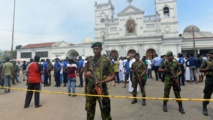 The head of the Catholic church in Sri Lanka, Cardinal Malcolm Ranjith, held a Mass restricted to clergy, but made arrangements to have it broadcast live on television and radio stations.
Sri Lankan Prime Minister Ranil Wickremesinghe vowed Sunday to crack down on foreigners overstaying visas, saying steps would be taken to deport them if they remained longer than they were allowed to.
Two local extremist groups with foreign links have been accused of the bombings, and local intelligence agencies believe that the militants involved in the attacks were trained by foreigners.
Wickremesinghe said in a statement that armed forces and police continued to find more weapons and explosives, and arrest people with links to the Easter Sunday bombings in three churches, three luxury tourist hotels and two other locations throughout the country.
Operations continued in eastern Sri Lanka, where at least three suicide bombers set off themselves and 12 others, including six children, were killed on Friday night.
A military spokesman said no military personnel or police suffered any casualties in the raid carried out on a house in Samanthurai, 364 east of the capital.
Islamic State had claimed that 17 police officers were killed or wounded by the extremist group's militants on its Amaq mouthpiece.