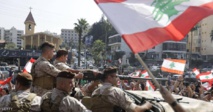 The protesters hurled stones at the security forces, who responded with tear gas and water cannon.
The Lebanese Red Crescent said that it transferred 30 wounded people to hospitals in the area, while 45 others were treated at the scene.
Protesters put the number of the wounded at more than 100 people.
Lebanon has been gripped by nationwide protests since October 17, leading to the resignation of Saad Hariri as prime minister.
After a break of several weeks, the reluctance of Lebanese leaders to form a new government and shore up the country's deteriorating economy has reignited protests.
On December 19, former education minister and university professor Hassan Diab was designated Lebanon's new prime minister with the help of the Iran-backed Hezbollah movement and its allies.
Diab has been so far unable to cobble together a government in a bid to extricate Lebanon from its worst economic crisis since the 1975-90 civil war.
Lebanon is under pressure from the World Bank and the International Monetary Fund to impose austerity measures in return for financial support.
The country has one of the biggest public debt ratios in the world, equivalent to about 150 per cent of the gross domestic product.