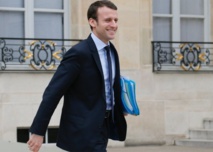 The One Planet Summit in Paris, co-hosted by France, the World Bank and the United Nations, is intended to mark the second anniversary of the Paris accord on limiting climate change.
French officials say the summit is not intended to replicate the work of last month's Bonn climate conference, which agreed on financing measures for poorer countries coping with global warming, as well as rules on implementing the Paris accord.
Instead, the meeting will discuss such key topics as how to promote investment in climate action and how to mobilize local and regional governments to work together on climate issues.
Macron, who has been one of the most prominent critics of US President Donald Trump's decision to pull out of the Paris agreement, announced the summit at his first G20 meeting in Hamburg in July.
In an interview with US broadcaster CBS on Monday, Macron called the US withdrawal "extremely aggressive" and said that, if Trump returned to the deal, he would not be able to renegotiate it.
On Tuesday morning, the French president is due to meet major environmental donors, including former New York mayor Michael Bloomberg, Microsoft founder Bill Gates and Virgin founder Richard Branson.
He is then scheduled to host a lunch at the Elysee Palace for attending heads of state and government, before heading to the summit venue on an island in the Seine outside Paris for the event's afternoon sessions.