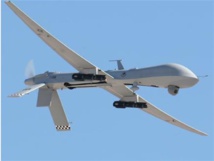 The spokesman of the Coalition to Restore Legitimacy in Yemen, Colonel Turki Al-Malki, said coalition forces intercepted and destroyed "a bomb-laden UAV [unmanned aerial vehicle] launched toward civilians and civilian objects in the Southern Region," according to a statement carried by the official Saudi Press Agency SPA.
Al-Maliki said coalition forces also intercepted and destroyed a ballistic missile which he said was launched by the Houthi militia "in a deliberate, systematic manner to target civilians and civilian objects" in the southern Saudi coastal city of Jazan.
He charged that the Houthi militia had used civilians and civilian objects to shield the ballistic missile's launch site.
Yemen has been in the grip of a power struggle between a Saudi-backed government and Iran-linked Houthi rebels since late 2014.