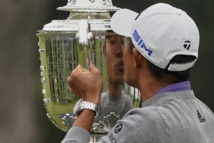 At a typical tournament, a crowd of thousands would have erupted - the ball settled 7 feet from the hole - but this time, Morikawa had to decipher the meaning of a few claps.
Because of the Covid-19 pandemic, spectators were not allowed. There were only media, volunteers, tournament officials, and a few special guests - among them Morikawa's girlfriend and agent - watching in person.
"By Wednesday night, I had no plans on going for 16 at all," said Morikawa, 23, glistening Wanamaker Trophy at his side.
But Sunday, playing in just his second major and victory within reach, he checked the wind, eyed the pin position, and decided ... Yes. Now.
His caddie,
J.J. Jakovac
, asked him what he wanted to do, and Morikawa didn't hesitate: "Let's go hit a good drive."
"Those are moments I'm always going to remember," said Morikawa, the world's 12th-ranked player, who shot a 64 to win the tournament by two strokes at 13 under par, pulling away from
Paul Casey
and
Dustin Johnson
.
"I hit it, and J.J. actually walked in the tee _ and he never does that _ and he was talking to the ball a bunch," Morikawa said. "I don't really talk to it too much. But we were both screaming at it to get a good bounce, and we obviously got a very good bounce. And you just have to capitalize on those shots."
He made the eagle putt, and ultimately made golf history.
Morikawa is the fourth player to win a PGA Championship before his 24th birthday, joining
Rory McIlroy
,
Tiger Woods
and
Jack Nicklaus
. Morikawa's closing rounds of 65 and 64 marked the lowest 36-hole score in the final two rounds of a major.
"His iron play and off the tee is amazing," said
Cameron Champ
, paired with Morikawa on Sunday. "He doesn't _ rarely misses a shot and obviously with his putting and chipping is all world-class, as well. He earned it, he deserves it ... He played a flawless round today."
The day could have gone much differently. On his approach on the first hole, Morikawa went at a tight pin and spun the ball back into a greenside bunker. He blasted out past the hole, and had to make a 22-foot putt to save par.
On No. 6, he got trapped in the trees along the left side with his drive, then punched out across the fairway to the right rough, where his ball disappeared. Again, he got out of that, and made a putt of nearly 26 feet for another par.
"Those are huge," he said. "Especially for me when I make a putt like that, I feel like I can make anything on the golf course. So for me it was just like, let's get the ball on the green and give myself a chance for a putt at birdie or par or whatever it is."
He said the putt on No. 1 was even more important than the par save on 6.
"I don't want to start off with a bogey in the final round of a major championship," he said. "So I stepped up, I felt comfortable. Felt comfortable over the putter today, and rolled it right in."
In the end, Morikawa socially distanced himself from a field that included two-time defending PGA champion
Brooks Koepka
, who fizzled with a final-round 74, world No. 1
Jon Rahm
, 2015 PGA winner
Jason Day
, bulked-up
Bryson DeChambeau
, and rising young stars Champ,
Scottie Scheffler
and
Matthew Wolff
.
Quite an accomplishment for Morikawa, who learned the game in the cozy confines of the par-67
Chevy Chase Country Club
in the
Los Angeles
suburb of
Glendale
, where he turned the course into a tricked-up funhouse just to challenge himself. He got around the fact that the longest hole at the place is a 433-yard par-five by dropping a ball on one tee box, and aiming for the green of another hole.
"They gave me a cart and I was able to go around, hit whatever balls, drop 10 balls off a tee, play other holes, make my own holes," Morikawa said last week. "It just got me creative, and that's how I've always played golf."
He went on to a stellar career at Cal, where he was a four-time All-American and Pac-12 player of the year. But even that wasn't predictive of winning a major, which puts him in the rarefied air of golf's ultra-elite.
"I had dinner with
Justin Thomas
," Morikawa said of the 2017 PGA winner, "and I was very fortunate through my agent and everything to have dinner with him that week, and he told me, 'If you're good enough, you're going to be out here at some point.' And I already felt good enough. I just had to have the starts. I had to have those opportunities. I was like, why not take advantage of these?"
Sunday, Morikawa answered his own question. For the first time, at least.