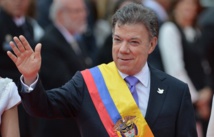 Muenster -
By Joerg Vogelsaenger and Maria Prieto,
– Attempts by the Colombian opposition to walk back the government's 2016 peace deal with the leftist guerrilla movement FARC will not bear fruit, President Juan Manuel Santos says.
The president, who is approaching the end of his second and final term, won the Nobel Peace Prize for his efforts to end the country's 52-year armed conflict.
Santos spoke to dpa about the peace deal, about peace talks with the smaller guerrilla group, National Liberation Army (ELN), about the crisis in neighbouring Venezuela, and about Netflix series "Narcos."
dpa: Concerning the peace process, opposition candidate Ivan Duque says that if he wins the presidential elections [first round on May 27], he will substantially modify the peace agreement. To what extent is it possible to do so?
Santos: They will find it very difficult, because we believe the agreement is ironclad; not only [by] the government, [but also by] the Constitutional Court and the international community. The Constitutional Court itself said in a ruling that the next three governments may not issue laws or take decisions that go against the agreements.
A very important part of the agreement has already been implemented, since the guerrillas have already been disarmed, have already been demobilized, are already a political party and already participated in elections....
[T]he next president would find very difficult, I would say impossible, judicially, practically and politically, to reverse the agreement.
dpa: How far can the negotiations with ELN progress before the end of your term?
Santos: We'll try to get as far as possible. How far depends on the two parties. Our intention is to see if we can negotiate a more serious, deeper ceasefire and speed up the negotiations to reach, I hope, a framework agreement similar to what was negotiated that Good Friday between the parties of Northern Ireland. I know it is an ambitious goal, but if there is willingness on the part of ELN, we could reach that point.
dpa: Colombia has received almost a million refugees from Venezuela. Can we talk about a humanitarian crisis? And to what extent does Colombia have the capacity to cope with this situation?
Santos: We need international help. It is a very difficult situation. We are not used to receiving this number of migrants. We have done it with a lot of pragmatism and with a lot of generosity.
We have solidarity with the Venezuelan people, but not with the predators, not with the regime that is causing this humanitarian crisis. With them, we are implacable. We hope this situation can be solved, corrected as soon as possible. But meanwhile, we are offering the Venezuelans who arrive in Colombian territory at least a dignified life...
What is happening in Venezuela is of course a humanitarian crisis, people are physically dying from hunger, they have no food ... they have no medicines. The crisis in Venezuela could not be worse.
dpa: With elections about to take place in Venezuela, how do you see the situation and what expectations do you have for the post-election period, given that Nicolas Maduro is likely to win?
Santos: We do not recognize those elections as democratic and clean elections. We know those elections have the name of a person, we know the regime will manipulate them and therefore we have said beforehand that we do not recognize those elections nor the result of those elections...
We are unfortunately seeing the situation in Venezuela worsen, become increasingly dramatic, and the call therefore is for the entire world to continue pressuring so we can have a transition as soon as possible, and also for the Maduro regime to at least accept humanitarian aid to relieve the situation of so many Venezuelans who are dying of hunger or dying of diseases because they have no medicines.
dpa: What is needed for a transition to take place?
Santos: To start with, that the regime leaves behind that surprising and irrational state of denial, as if everything were normal, when everything is in crisis and getting worse.
dpa: Colombia has traditionally been a close US ally in Latin America. What has changed from the Colombian viewpoint under the new administration of Donald Trump?
Santos: We have long done everything possible and necessary to have good two-party relations. We have emphasized being able to have good relations both with Republican governments and Democrat governments.
We have good relations with the Trump government. The proof is that the US Congress a few weeks ago approved the budget and ... increased the figure of aid in this entire bilateral cooperation process and I hope these good relations can be maintained...
dpa: President Trump had to cancel a visit to Colombia. Has a new date been set yet? Will he come before the end of your term?
Santos: No, we don't have a date. They said he might come before the end of my term, but we are waiting for them to tell us when he would have time and if he will really go to Colombia or Latin America before August 7.
dpa: Do you believe that TV series such as "Narcos" have contributed to maintaining an image of Colombia that no longer corresponds with reality?
Santos: There is a controversy about how harmful those series are. They represent a reality that we experienced some time ago.
On the other hand, the contrast between what Colombia is today and what Colombia was at the time is also something that people who go to Colombia become aware of: It is a very different country from the one seen in those series and they realize the dramatic positive change that we have gone through.
But we cannot hide the sun with our hands: If those events took place with the Medellin cartel, with the Cali cartel, with all the drug trafficking, it also tells the world about the enormous sacrifice that Colombia has made in this global war against drugs, a war that was declared at the United Nations more than 45 years ago and that has not been won. The country that has sacrificed the most, that has put the most blood and the most reputations on the line, has been Colombia, and we shall continue fighting against drug trafficking, which for us remains a national security problem, and we hope the world also continues fighting against drug trafficking.