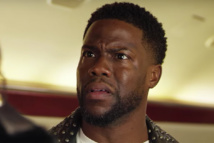 "I have made the choice to step down from hosting this year's Oscar's [sic]," the comedian wrote on Twitter on Friday.
"I sincerely apologize to the LGBTQ community for my insensitive words from my past," he added using the acronym for the Lesbian, Gay, Bisexual, Transgender and Queer community.
Just an hour earlier, Hart had posted a video on Instagram in which he refused to apologize as the Academy of Motion Picture Arts and Sciences had asked him to do.
"I chose to pass, to pass on the apology. The reason I passed is I've addressed this several times," Hart said, adding that he had moved on since posting tweets containing homophobic language, since deleted, between 2009 and 2011.
"I'm gonna be me, I'm gonna stay on my ground," he added.
The 91st awards will be held at Hollywood's Dolby Theatre on February 24.