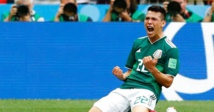 Moscow

(dpa)

-
Goalkeeper Guillermo Ochoa was still standing on the pitch some 10 minutes after the final whistle, just soaking up the atmosphere after arguably Mexico's biggest World Cup win.
The tens of thosands of Mexican supporters inside Luzhniki Stadium just couldn't stop singing in delight about a 1-0 triumph over defending champions Germany at the start of their Group F campaign.
Back home, seismic activity during the game was attributed to fans jumping in joy, and the nation's President Enrique Pena Nieto wasted no time expressing his delight.
"Confirmed: Mexico competes and wins against the best in the world. Many Congratulations. Great game," he tweeted.
What made victory even sweeter was that El Tri fully deserved it, tormenting the mighty Germans up front in the first half highlighted by Hirving Lozano's goal, and then sitting back a little more and more or less comfortably absorbing any Germany attacking threat.
In addition, coach Juan Carlos and his players had seen it all coming, insisting in the run-up that they stood a realistic chance against the likes of Toni Kroos, Sami Khedira and Manuel Neuer although Mexico had never beaten Germany in a competitive match and the Germans had lost only one of their previous 18 World Cup openers.
"This is a milestone for Mexican football," Osorio said. "The team played for the love of winning and not the fear of losing. We played with bravery when needed and defended with heart when needed."
Lozano said: "I don't know if it's the biggest [Mexican] win in history but it is right up there," adding on his personal effort: "It's the best goal I have scored in my entire life."
The PSV Eindhoven man on the left wing was the key element along with right winger Miguel Lajun of Sevilla, West Ham striker Javier Hernandez and forward Carlos Vela of Los Angeles.
Especially Vela and Lozano - who both came off around the hour - exposed huge gaps on the right side of the German defence, where Joshua Kimmich's attacking game left huge holes.
That's exactly how Osorio had planned it long ago.
"We had drawn up a plan six months ago. We had to make a few changes but we always wanted to have two fast players on the wing. In the first half we defended with intelligence and hurt them on the counter. With all respect, we were the superior team," Osorio said.
"They tried to attack in the second half but we were prepared. We practiced defending with four defenders."
Germany were certainly below their best, and Osorio said that despite the big win nothing is achieved yet, as Mexico want to advance into the last 16 for which they can't drop concentration in the other games against South Korea and Sweden.
"We will rest and recover for South Korea which will be extremely difficult. Let's see how far we can get," Osorio said, firmly keeping his feet on the ground.