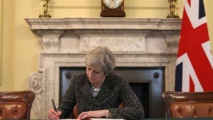 The plan includes a revised version of a "backstop" arrangement designed to guarantee an open Irish border after Brexit, despite the EU's insistence that it will not reopen the draft withdrawal agreement it has agreed with May.
The new plan is also backed by Northern Ireland's Democratic Unionist Party (DUP), whose 10 lawmakers have propped up May's minority government since June 2017.
May is expected to face strong opposition on Tuesday as she tries to persuade lawmakers to back her own Brexit plan, amid media speculation that she could promise parliament that she will ask Brussels to change the backstop.
Lawmakers will vote on several non-binding amendments to her plans, which she submitted following a crushing defeat on the deal on January 15.
The Commons, parliament's main elected house, rejected the withdrawal deal by 432 votes to 202, delivering the biggest-ever defeat to a British government.
Dozens of Conservative eurosceptics, the DUP lawmakers and many pro-EU Conservatives voted against the deal.
Most of them oppose the backstop, which could place Northern Ireland under slightly different, indefinite arrangements from the rest of the United Kingdom.
"At some point there has to be a compromise on all sides in order to get the deal over line," Nicky Morgan, a Conservative who had previously backed May's deal, told BBC Radio 4, Today programme.
"The [Plan C] proposal recasts the backstop as free trade agreement-lite and involves a commitment by all sides to have no hard border on the island of Ireland," Morgan said.
Former Conservative leader Iain Duncan Smith, a pro-Brexit lawmaker, said the new plan was "the best hope that we've got now for the governing party."
It would mean Britain leaving the EU on March 29 as planned, Duncan Smith told the broadcaster.
"But it also ensures that those who are worried about cliff-edges and not having an agreement that that departure will be a managed process," he added.
One key amendment from Graham Brady, chair of the Conservatives' parliamentary group, seeks to commit the government to renegotiating the backstop, while another from Labour lawmaker Yvette Cooper proposes extending the Brexit negotiating process beyond March.
May has reportedly urged Conservatives to back the Brady amendment and is expected to clarify her position in a statement at the start of Tuesday's debate.
Lawmakers are also expected to press her to indicate when a second vote might be held on the deal.
After her defeat on January 15, May said she would seek "consensus" on the way forward in talks with opposition leaders, business groups and trade unions.
Labour leader Jeremy Corbyn, who refused to meet May, branded the talks a "stunt." Other opposition lawmakers who met her said there was little sign of compromise.