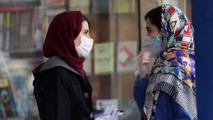 The best case scenario is based on a quick containment of the outbreak, with restrictions removed after two months from late January, while the worst-case projection looks at a protracted outbreak that could see precautions in place for six months.
The minimum losses are projected at 77 billion dollars, or 0.1 per cent of global gross domestic product (GDP), the Manila-based bank said. The maximum losses represent 0.4 per cent of global GDP.
"Two-thirds of the impact falls on China, where the outbreak has been concentrated so far," it added.
China's losses could hit 237 billion dollars or 1.7 per cent of its GDP, while the rest of developing Asia would lose 42 billion dollars or 0.5 per cent of its GDP in the worse-case scenario, the report said.
Earlier on Friday, Asian shares fell following heavy losses on Wall Street due to growing concerns about the fast-spreading coronavirus outbreak.
Japan's benchmark Nikkei 225 Stock Average lost 676.57 points, or 3.17 per cent, to stand at 20,652.55 at 11:30 (0230 GMT) at the end of the morning session.
South Korea's Kospi Index plunged 2.2 per cent in the morning while the Shanghai Composite index was down 0.87 per cent and the Hang Seng Index dropped 1.91 per cent.
Overnight, the S&P 500 was lower 3.39 on the day, while the Dow Jones Industrial Average lost 3.58 per cent, or 969 points, in a broad-based plunge. The technology-heavy Nasdaq took a 3.09 per cent dive.