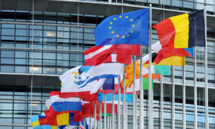 A team from the council's Moneyval committee is "to assess the effectiveness of the legislative and institutional measures" adopted against money laundering and terrorist financing, the Vatican said.
The Vatican is keen to make strides on financial transparency, after decades in which its secretive bank, the Institute of Religious Works (IOR), was seen as a money-laundering haven.
But the Moneyval visit comes as the Vatican is reeling from a new financial scandal triggered the dramatic resignation last week of Italian Cardinal Angelo Becciu.
Becciu was effectively fired by Pope Francis on Thursday, after being accused of misusing a papal charity fund to support a cooperative run by his brother in his native Sardinia.
The cardinal, a key player in the pope's inner circle, was previously under scrutiny - but not under investigation - for a real estate deal in central London that cost the Vatican vast amounts of money.
Vatican prosecutors have since last year been investigating the affair, which happened when Becciu was the deputy head of the Secretariat of State, the Vatican's main ministry.
The suspicion is that the Secretariat of State was milked off by unscrupulous middlemen through various transactions, possibly with the complicity of people working under Becciu.
The whole affair has been called "opaque" by Cardinal Secretary of State Pietro Parolin. Francis said last year there was "clear" evidence of corruption.