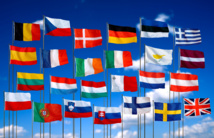 Russian voting rights in the council's parliamentary assembly were suspended a half-decade ago when Russia annexed neighbouring Ukraine's Crimea region. In retaliation for the suspension, Russia has stopped paying membership fees.
The Russian arrears were estimated at 90 million euros (100 million dollars), the Finnish Foreign Ministry said.
Germany's Foreign Minister Heiko Maas said the Council of Europe needs to be able to work effectively in future, and he was seeking a solution to avert Russia leaving, adding this was not in the council's interests.
"Russia belongs to the Council of Europe, with all attendant rights and obligations," Maas said ahead of the session.
He later met Russian Foreign Minister Sergei Lavrov on the sidelines and raised topics including Syria, Venezuela, Ukraine and Iran, the German Foreign Ministry tweeted.
Lavrov, who made a rare appearance at the council, was due to have other private meetings.
Ukraine's foreign minister did not attend Friday's session, spurring media speculation that the council could move to restore Russia's voting rights.
Finland later Friday passes the rotating chairmanship of the council's committee of ministers to France.
The council's secretary general, Norwegian politician Thorbjorn Jagland, has emphasized that it was key that the member states fulfil their obligations.
In the run-up to the meeting, French President Emmanuel Macron expressed the "importance of finding a solution that will enable Russia to remain in the Council of Europe, with all the resulting rights and obligations," the French Foreign Ministry said this week.
This month marks 70 years since the Council of Europe was established in the wake of World War II to uphold human rights, democracy and rule of law on the continent.
"The ministerial session in Helsinki has a decisive significance for the fate of the Council of Europe," the Russian Foreign Ministry said in a statement on Thursday.
The session should result in the "adoption of concrete decisions directed at continuing to guide the organization out of an institutional crisis," the Russian side said.
The crisis, it said, was "provoked by the unlawful deprivation of rights of the Russian delegation in the Council of Europe's parliamentary assembly."
Officials and rights groups say membership offers protection for the Russian people. Turkey has also had issues over funding.