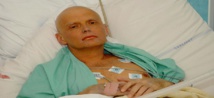 "Due to the unusual circumstances, it has been decided that the Counter Terrorism Policing network will lead the investigation, as it has the specialist expertise to do so," said the Metropolitan Police.
Police sealed off a restaurant, a pub and other premises in the city of Salisbury after the former Russian intelligence officer and his daughter Yulia, 33, were found unconscious on a bench on Sunday.
Police said the pair were "currently being treated for suspected exposure to an unknown substance" and both "remain in a critical condition in intensive care."
"The focus at this time is to establish what has caused these people to become critically ill," said Mark Rowley, head of Britain's counterterrorism police.
British Foreign Secretary Boris Johnson told parliament that Britain will "respond appropriately and robustly" if it finds state involvement in the "disturbing" incident, which Johnson said had "echoes of the death of Alexander Litvinenko in 2006."
Police said officers had secured "a number of scenes," including a branch of Italian restaurant chain Zizzi and and The Bishop's Mill pub in The Maltings shopping centre.
They said "a small number of emergency services personnel were assessed" after the incident, and one remained in hospital Tuesday.
In Moscow, meanwhile, the Kremlin said it was "always open for cooperation" in the investigation.
However, "we do not have information about what the reason could be or what this man was engaged in that could have been connected with [the incident]," Kremlin spokesman Dmitry Peskov said in comments carried by the TASS state news agency.
The Russian embassy in London denounced speculation suggesting a possible link between the Russian state and the incident, saying such conjecture amounts to "slander of Russia."
But Yuri Felshtinsky, an exiled Russian historian who was an associate of Litvinenko, said the incident bore "all [the] hallmarks of a [Russian President Vladimir] Putin assassination."
Putin could have wanted to send "a sharp warning to any political opponent not to pose a real challenge in any way to the president," claimed the author in a publisher's statement on Tuesday.
Felshtinsky has written several books, including one on Putin called "The Age of Assassins" in 2008.
Skripal, a former colonel in Russian military intelligence, was imprisoned in Russia in 2006 on allegations of spying for Britain.
He was released four years later to live in Britain as part of a high-profile spy-swap deal with the United States, under which the US released 10 agents planted by Russia.
Alexander Litvinenko, another Russian former intelligence officer, died in 2006 after drinking tea laced with a radioactive isotope.
A British inquiry concluded that Litvinenko was targeted for assassination by the Russian intelligence services.
His death soured relations between London and Moscow for many years.