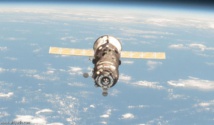 The crew - composed of Alexander Gerst of Germany, Serena Aunon-Chancellor of the United States and Sergei Prokopyev of Russia - are scheduled to blast off on Wednesday for the "Horizons" mission to the ISS to conduct research 400 kilometres above the Earth's surface.
Gerst, 42, affectionately known as Astro-Alex, tweeted from the bus to the Russian cosmodrome: "On the way to the launch site where we will put on our space suits ... Mood in the crew is super. Notice uninterested camels on the edge of the road."
Gerst's family had wished him well before his departure. "We are delighted to see him fly into space now for the second time and wish him all the very best," they told dpa in a written statement.
The Soyuz rocket that will take Gerst, a geophysicist and vulcanologist, Aunon-Chancellor, a doctor, and fighter jet pilot Prokopyev to the ISS is due to blast off at 1112 GMT.
Gerst wrote that he had had a breakfast of kasha - a Russian dish of grains such as buckwheat, barley, oats or rye - and his last shower for six months, before being rubbed down with disinfectant.
Gerst recently showed himself relaxed about the trip to the ISS in the service of the European Space Agency (ESA) thanks to his experiences on the previous Blue Dot mission in 2014.
As Soyuz co-pilot, he has greater responsibility than last time, when he was a simple on board engineer; he will also be taking command of the ISS from October for three months.
Ahead of blast-off, a Russian Orthodox priest had blessed a rocket on Tuesday.
The blessing of the Soyuz rocket is one of several traditions of Russian space travel. Others include the planting of a tree and the watching of a classic Soviet-era film from the 1970s.
On Wednesday, the crew signed their hotel room doors in the cosmonaut hotel as they headed off for the launch, yet another tradition.
Some of the luck-bringing customs date back to space pioneer Yuri Gagarin, but the blessing was first introduced in the 1990s.
The priest, who introduced himself at Father Sergei, told dpa on Tuesday he has blessed every rocket and crew for 20 years. "All of them have come back to Earth," he said.