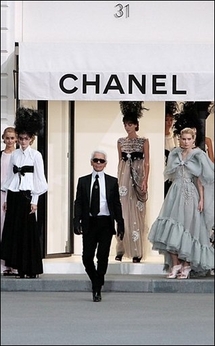 Italy's Bulgari is expecting a fall in profits this year while Tiffany in the United States has warned of a possible staff cut due to a third quarter drop in turnover.

Meanwhile LVMH, the world's leading luxury conglomerate, saw its third quarter growth sliced 50 percent in comparison to the first two terms in 2008.

After expanding for four years with more than 10 per cent annual growth, the luxury sector faces a four percent drop in sales in 2009, according to US investment bank JPMorgan.

For some labels, the fall could be as much as a 10 to 15 percent, according to Deutsche Bank.

But the crisis will hit some countries and products harder than others, said Emmanuel Bruley des Varannes, an analyst at French bank Societe Generale.

"The Japanese market," he said, "has been very badly hit because the country is in a recession."

LVMH sales in Japan have dived seven percent in the first nine months, with the firm forced to drop prices both due to financial turmoil and to the 30 percent drop in the euro against the yen in the last three months.

And last week the luxury giant dropped plans to open the world's biggest Vuitton store in Tokyo.

Commenting on the effect of the crisis on various luxury goods, Bruney des Varannes said watch-makers were taking a bigger punch than makers of leather goods.

Swiss watch exports in November dropped more than 15 percent, with falls highest on the big Hong Kong and US markets.

France's usually lucrative champagne exports too are wobbly, with sales to the US market down 17 percent.

"To protect themselves, luxury labels are cutting back on planned openings of new boutiques, freezing staff recruitment, closing some shops and refocusing activities," he said.

But one thing they cannot do is reduce prices.

"This would harm their image," he said.