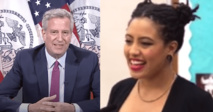 "Our progress is thanks to the hard work of New Yorkers - even after two and a half months of reopening, the numbers have continued to go down," the governor said in a statement.
As other states see surging Covid-19 numbers,
New York
has reported steady declines since the state became the epicenter of the outbreak in the
US
back in April.
Cuomo encouraged New Yorkers to remain vigilant, practice social distancing and other safety precautions, as he warned of infections coming from other hotspots.
"But we learned from this crisis that nobody is safe until everybody is safe, and an outbreak anywhere is an outbreak everywhere," he said. "Surging infection rates across the country threaten that progress, so we must continue to wear our masks, socially distance and stay New York Tough."
On Tuesday, Cuomo added
Rhode Island
to
New York's
coronavirus quarantine list, while removing
Washington, DC
, and
Delaware
from the travel advisory.
Travelers from 34 states, as well as
Puerto Rico
, are now required to isolate for 14 days if they visit
New York
,
New Jersey
or
Connecticut
.
Earlier in the day, Mayor
Bill de Blasio
announced quarantine "checkpoints" at airports, bridges, tunnels and major roadways to quiz travelers about their plans and register with authorities.
The falling infection rate in the
Empire State
comes as the city passed a significant milestone: three days without a reported Covid-19 death. The state recorded just four deaths from the virus on Tuesday, Cuomo said. Another four New Yorkers of Covid-19 on Tuesday, the governor said.
A total of 25,179 people have died from the virus in
New York
.