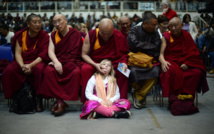 "During the past few weeks, His Holiness has found that carrying out his activities has left him unusually tired," it said, adding that physicians have advised him to avoid undertaking long journeys.
"His Holiness has reluctantly had to concede that his 82-year old body was telling him to rest," the statement said.
The Tibetan Buddhist spiritual leader had been due attend the annual Mind and Life Dialogues, which brings together religious and scientific scholars to discuss "critical issues facing modern life."
The Dalai Lama will instead recuperate at his residence in Dharamsala, northern India, where he has lived in exile since fleeing Chinese-ruled Tibet in 1959 following failed uprising.