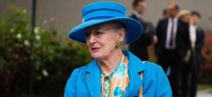 The French-born Henrik died in his sleep late on February 13, aged 83, in Denmark. In line with his wishes, his last moments were spent at Fredensborg Palace, about 40 kilometres north of Copenhagen.
He was being treated in a Copenhagen hospital for a lung condition since last month.
In accordance with Henrik's desire for a private funeral ceremony, only about 60 guests are expected at Tuesday's event, including members of the Danish royal family and Henrik's family from France.
The palace has not released names of guests.
About 14,000 people visited Christiansborg Palace Church at the weekend to pay their last respects. Henrik's coffin was brought late Friday to the church where the funeral ceremony is set to take place.
About 200 guests, including many of Henrik's closest friends and representatives of organizations he was a patron for, such as the Danish Red Cross, attended a brief ceremony on Monday at the church.
The prince also wished to be cremated. Half of his ashes are to be scattered in Danish waters, and the other half are set to be placed in an urn and then buried in Fredensborg Palace's private gardens.
Margrethe married Henrik in 1967 when she was crown princess. She became queen in 1972. Henrik remained a prince.