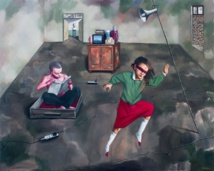 Known as Britain's Andy Warhol, Hockney is one of the most celebrated painters in contemporary art.
The Bucerius Kunst Forum art gallery in the German port city is displaying some of his most important works, such as "The First Marriage," "Mr and Mrs Clark and Percy" and "My Parents."
The exhibition includes around 100 pieces in total, most of which are on loan from the Tate.
"The special thing about Hockney and what makes him a great artist is that the viewer is always part of the work. He always takes the viewer into account and takes them with him," gallery director Kathrin Maumstark said on Thursday, describing what makes Hockney's work so moving for many.