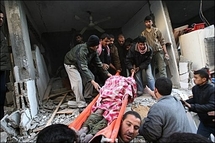 "Europe must open its eyes," President Shimon Peres told an EU ministerial delegation.
"We are not in the business of public relations or improving our image. We are fighting against terror and we have every right to defend our citizens."
The United Nations demanded an investigation after tank and air assaults hit three schools run by its Palestinian relief agency, UNRWA.
At least 43 people sheltering at the Jabaliya refugee camp school in northern Gaza were killed, emergency services said. The UN confirmed at least 30 dead and 55 wounded after the shelling.
The Israeli military said a preliminary inquiry indicated that mortar rounds may have been fired from the Jabaliya school.
Earlier two people were killed when an artillery shell hit a school in the southern city of Khan Yunis. Three people also died in an air strike on another school in Gaza City's Shati refugee camp, medics said.
UN Humanitarian Coordinator for the Palestinian territories Maxwell Gaylard said Israel had the GPS coordinates of all UN buildings in Gaza -- including schools.
"Neither homes nor UN shelters are safe" for civilians, he said in a statement and called for an investigation. "If international humanitarian law has been contravened, those responsible must be held accountable."
Heavy fighting raged in Gaza City and around nearby Deir al-Balah and Bureij. One air raid on Gaza City killed 12 people, including seven children, from the same family.
Tanks with helicopter gunship support rolled into Khan Yunis before dawn, to be met with return fire from Hamas and its allies, witnesses said.
Four Israeli soldiers were killed in two friendly fire incidents during overnight fighting, the army said. Five have now died since Saturday.
The military said another soldier was killed in a clash near Gaza City.
It also said that paratroopers shot at the belt of a suicide bomber running towards them to detonate his bomb.
About 35 Hamas rockets were fired over the border, one landing 45 kilometres (28 miles) inside Israel -- the deepest yet -- slightly wounding a baby, it said.
Three civilians and one soldier have been killed by rockets hitting Israel since the offensive began.
Protests against Israel have spiralled worldwide and the French president led new calls for a truce as he met Israeli leaders in Jerusalem on Monday.
But Israeli Prime Minister Ehud Olmert reaffirmed that there can be no ceasefire until "terrorist" rocket attacks and weapons smuggling into Gaza are ended.
Sarkozy went to Damascus and Beirut and later returned to Egypt to see President Hosni Mubarak, saying there was a "glimmer of hope" for ending the bloodshed. A Hamas delegation also arrived in Cairo.
Egypt brokered a six-month truce that ended on December 19. Hamas refused to renew the deal and started firing rockets, sparking the war.
Israel launched Operation Cast Lead on Hamas on December 27 with a massive air bombardment of Gaza, and sent in thousands of ground troops a week later.
Since then, 660 Palestinians have been killed, including about 200 children, with more than 2,950 wounded, Gaza medics say.
Egypt said on Tuesday the number of Palestinians who have died after being evacuated through the Rafah crossing rose to 11 when four more succumbed to their wounds.
Israel has denied there is a humanitarian crisis in Gaza, but the International Committee of the Red Cross stepped up pressure with a rare public statement.
"There is no doubt in my mind that we are dealing with a full-blown and major crisis in humanitarian terms. The situation for the people in Gaza is extreme and traumatic," said Pierre Kraehenbuehl, ICRC director of operations.
He said ICRC staff in Gaza described the past night as "the most frightening to date" in the territory, where there is no power or water and food rations are severely limited.
The UN Security Council was to meet again on Tuesday to weigh an Arab call for a ceasefire and to protect Palestinian civilians, diplomats said.
Washington has strongly backed Israel, with President George W. Bush saying any truce must ensure an end to militant rocket fire.
President-elect Barack Obama vowed to speak out about the conflict once he takes office, but insisted until then only Bush can speak for the US.
"After January 20 I am going to have plenty to say about the issue," Obama told reporters.
----------------------------
Image of Palestinians carrying the body of a man killed in an Israeli air strike on a three-storey house belonging to a Hamas member in the eastern Gaza City neighbourhood of Zeitun, by Mohammed Abed.