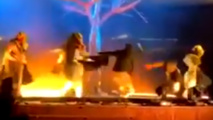 On November 12, police arrested the 33-year-old man following his attack on a theatrical group that was performing as part of a state-sponsored entertainment festival.
Two men and a woman sustained minor injuries in the attack, the Riyadh police said at the time.
On Sunday, the court convicted the man of carrying out the attack on orders from an al-Qaeda commander in Yemen.
The court also handed another Yemeni man a sentence of 12 years and six months in the same case on complicity charges, the broadcaster said.
Both rulings are preliminary and can be appealed.
In recent months, many Saudis have been flocking to attend performances featured in the Riyadh Season Entertainment Festival, part of a push to open up the conservative kingdom for tourists and diversify its oil-reliant economy.