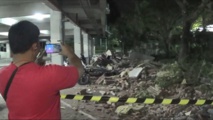 Thousands of homes and other buildings were also damaged in Sunday's quake, forcing residents to seek refuge elsewhere, said Sutopo Nugroho, spokesman for the National Disaster Management Agency.
"This is a preliminary report. We expect the numbers to continue to increase as not all areas in Lombok have been reached by joint search and rescue teams," he said.
The districts of North Lombok, East Lombok and Mataram were the hardest hit, Nugroho said, adding that most of the victims "died after being hit by debris from collapsing buildings."
The search for more victims was hampered by power and communication blackouts, he said.
The Sunday quake struck exactly a week after a slightly weaker temblor caused 20 deaths on the resort island.
It hit at 7:46 pm (1146 GMT), with an epicentre 18 kilometres north-east of the island's North Lombok district and at a depth of 15 kilometres.
"We were having evening prayers when the earth started shaking violently and we thought the mosque was going to collapse," said Didik Santoso, a resident in the provincial capital Mataram.
The quake triggered a tsunami warning which was later lifted after the national geophysics agency recorded only small swells of up to 13 centimetres on the coast.
Television footage showed patients attached to intravenous drips being treated in the grounds of hospitals.
"There are about five to 15 fatalities from each village so we expect the casualties to go up," North Lombok district chief Najmul Akhyar told the broadcaster Metro TV.
Meanwhile, rescuers evacuated about 1,000 domestic and foreign tourists from the Gili resort islets off Lombok, Nugroho said.
There were no casualties among tourists there, despite reports of damage, he said.
The earthquake was also felt on the neighbouring island of Bali and on the eastern part of East Java province.
There was superficial damage in parts of Bali's Ngurah Rai international airport building but operations were not affected, an airport official said.
Last week's 6.4-magnitude quake caused landslides that blocked hiking routes and left hundreds of local and foreign hikers stranded on a volcano.
Indonesia is currently hosting two ministerial-level conferences on regional security and counterterrorism in Bali and Lombok.
Chief security minister Wiranto, who is in Lombok with his regional counterparts from Australia, New Zealand, Australia and Myanmar, said that a meeting on counter-terrorism, which was set to be held on Monday, had been cancelled.
Wiranto had been hosting a welcoming dinner for the delegations at a hotel in Mataram when the quake struck.
President Joko Widodo said he had ordered Wiranto to coordinate emergency efforts "so that assistance can reach the victims as quickly as possible."
Indonesia sits on the so-called Pacific Ring of Fire, an area known for frequent volcanic eruptions and earthquakes.