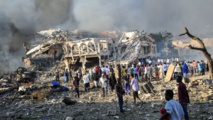 A suicide attacker detonated a truck filled with explosives at a busy intersection in the capital Mogadishu on Saturday. It was the deadliest single attack in the volatile East African nation's history.
The explosion occurred at a major intersection normally packed with cars, buses and taxis, where hotels, stores, restaurants and government buildings cater to locals. The nearby Safari hotel is thought to have been a possible target in the attack for offering accommodation to Somalis returned from abroad, government workers and journalists.
Before detonating the truck he was driving, the suicide bomber had raced along a Mogadishu street at high speed on Saturday, rolling over motorcycles and cars and shunting some vehicles stuck in traffic. Security forces had opened fire on the truck but were unsuccessful in their attempt to shoot the driver.
The National Union of Somali Journalists (NUSOJ) on Monday confirmed that one of its members, a freelance video journalist, was killed during the attack, while at least five other journalists were wounded.
"We are shocked by the unprecedented scale and brutality of this gruesome bombing," NUSOJ secretary general Omar Faruk Osman said in a statement.
Somali President Mohamed Abdullahi Mohamed called the attack a national tragedy. In comments carried by state-run radio, the president called on the public to help the victims by giving blood and announced three days of mourning.
Thousands of people took to the city's streets on Sunday to visit local hospitals and look for their loved ones who were still missing.
No group has claimed responsibility for the attack, but Somali Information Minister Abdirahman Yarisow said the government believes it was carried out by al-Shabaab, a militant group affiliated with the al-Qaeda terrorist network which is seeking an Islamist state in Somalia.
A 22,000-strong African Union force supports the Somali military in its fight against the terrorists.