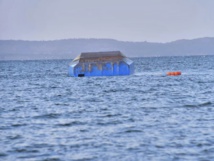 One person was found alive, two days after the accident, Kamwelwe told dpa. Alphonce Charahani, a ferry engineer, is in a critical condition.
Nearly 100 people escaped when the MW Nyerere capsized Thursday afternoon. It sank only several metres from the dock near Ukara Island in Ukerewe district, according to Temesa, the company that maintains Tanzania's ferries.
Initial investigations show that overloading may have led to the accident, Information Services Chief Secretary John Kijazi said.
Estimates showed the ferry was carrying more than 300 people, but the exact number of passengers remains unknown.
"Together with the number of bodies which have been retrieved, we can deduce that the ferry was carrying more people than its designed capacity of 101 passengers," said Kijazi.
Tanzania's government will offer about 500,000 shillings (220 dollars) in compensation to the families of each victim, government spokeswoman Jenista Mhagama told the local broadcaster.
Tanzanian President John Magufuli announced three days of mourning and called for the arrest of those responsible.
Accidents are not uncommon on Lake Victoria, which straddles Tanzania, Uganda and Kenya, as well as on the Indian Ocean, which borders Tanzania.
Poor maintenance and overloading are often the causes of the accidents.
In 2011, 192 people were killed when a heavily overloaded ferry capsized between Tanzania's most populous city, Dar es Salaam, and the tourist island of Zanzibar.
A year later, more than 70 people died when another ferry sank near Chumbe Island, a smaller islet near Zanzibar.
Notepad