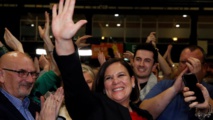 Acting Prime Minister (Taoiseach) Leo Varadkar said late Thursday he predicted that the three parties would vote to enter a coalition and a new taoiseach would be elected Saturday. "There is no arrangement in place" for a Plan B or to have a temporary taoiseach elected if the programme for government is not accepted, Varadkar told national broadcaster RTE after his last cabinet meeting.
If the deal goes ahead, leader of the Fianna Fail party Micheal Martin will be elected taoiseach on Saturday.
After four months with a caretaker government, Fianna Fail and Fine Gael agreed in mid-June to form a government with the Green party. The deal requires ratification by party members.
Fianna Fail and Fine Gael members are expected to vote with a comfortable majority in favour of forming a coalition, but some of the smaller Green Party members have threatened to vote against the deal.
It would be the first time in history that the two major parties enter government together.
If party members reject the deal there would likely be another election in the country.