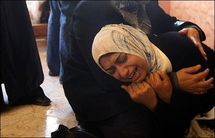 Hamas meanwhile said it would not accept any ceasefire with Israel that did not see the lifting of a crippling blockade of the impoverished territory enacted when the Islamist movement seized power in Gaza in June 2007.
The humanitarian impact of Operation Cast Lead was also becoming more acute with the UN warning that families were going hungry as food supplies dry up.
Pressure on the two sides increased with an overnight security council resolution which demanded an "immediate, durable" ceasefire leading to the "full withdrawal" of Israeli forces from Gaza.
Fourteen of the 15 council members voted in favour. The United States, Israel's main ally, abstained but refrained from vetoing the resolution agreed after lengthy negotiations between Arab and Western foreign ministers.
Israel however dismissed the resolution, saying it could not agree to it in the face of continuing rocket attacks.
Israel launched its war against the Islamists on December 27 aiming to end rocket attacks in southern Israel and the smuggling of weapons into Gaza through tunnels under the Gaza-Egypt border.
"Israel has never agreed for any outside influence to decide on its right to defend its citizens," Olmert said in a statement before the country's powerful security council agreed to press ahead with the offensive.
Mussa Abu Marzuk, the Damascus-based deputy head of the powerful Hamas politburo, said Hamas would reject any ceasefire that did not lift the blockade.
"There will be no acceptance of any (proposal) that does not call for an end to the blockade and the opening of the border crossings," he told AFP.
"Hamas has no comments on the (UN) resolution, because it has not been asked to accept or reject it."
Since early on Friday, Israel staged around 100 strikes on Gaza, which Gaza medics said had killed over 30 people, nearly half of them civilians. The army had arrested some 300 Palestinians in the north of the strip, witnesses said.
Hamas and its allies fired more than 30 rockets into southern Israel, injuring one person, the military said. At least four Grad rockets hit Beersheva, about 40 kilometers (25 miles) from Gaza.
Muawiya Hassanein, the head of Gaza's emergency services, said at least 800 people are now known to have been killed since December 27 and another 3,330 wounded. The dead include at least 230 children and 92 women.
Ten Israeli soldiers and three civilians have been killed in combat or rocket attacks into Israel over the same period.The violence on the ground has prompted the United Nations' main aid agency in Gaza, UNRWA, to halt to all its operations, raising fears the territory's beleaguered 1.5 million population will soon go hungry.
"The need on the ground is dire," a spokeswoman for the UN's World Food Programme told AFP from Egypt's Rafah border crossing with Gaza, one of the crossings through which aid has passed since the conflict began.
"Eighty percent of the population is in need right now, maybe even beyond that," said Nancy Ronan. "We got food into Gaza, but we now have a problem distributing it because of the security situation."
The White House expressed concern about the humanitarian situation in the narrow coastal strip but blamed Hamas for the bloodshed.
And US Secretary of State Condoleezza Rice said protecting civilians was "very difficult in circumstances like Gaza, which is a very densely populated area."
She said the United States had abstained in the UN vote in order to allow Egyptian President Hosni Mubarak's ceasefire initiative to "mature."
Mubarak, who has proposed a three-point plan for a ceasefire that has been backed by Washington, was due to hold separate talks with Abbas and a Hamas delegation, including members from Gaza, on Saturday.
His plan calls for for a ceasefire to allow humanitarian aid into Gaza, urgent meetings with Palestinian and Israeli officials and the resumption of Palestinian reconciliation talks.
Arab anger at the conflict meanwhile intensified, with more than 50,000 Egyptians rallying after Muslim prayers in the northern city of Alexandria.
Other protests held in Amman, Doha, Abu Dhabi, Kuwait, Baghdad, Algiers, and several European capitals.
A rally in the West Bank city of Ramallah turned into a display of the deep divisions among Palestinians, with fist fights breaking out between supporters of Hamas and Abbas's rival Fatah faction.
----------------------------------------
Image of a relative of Palestinian journalist Ihab al-Wihedi and his wife mourning prior to their funeral in Gaza City, by Mahmud Hams.