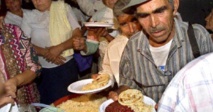 The president of the Central American country, Nayib Bukele, had distributed the photos over the weekend, showing hundreds of inmates in a detention centre - all dressed only in underpants, with bare heads and face masks - sitting in rows so close behind each other that their faces and backs touch.
After an increase in violence in El Salvador, Bukele once again announced an emergency in the prisons.
Members of different gangs would no longer be housed in separate cells, he said. Gangs had previously been separated to avoid violence. On Monday, Bukele tweeted photos of cell entrances with bars being sealed with what looked like metal plates.
The gangs were taking advantage of the fact that almost all members of the security forces were monitoring the curfew imposed due to the coronavirus pandemic, the 38-year-old conservative leader wrote.
Murders had been ordered from prisons, he claimed, as he authorized the police and army to use lethal force against the "terrorists."
According to media reports, Friday was the bloodiest day in Bukele's almost 11 months in office with 24 murders.
Previously, the murder rate in El Salvador - which used to be the highest in the world - had dropped sharply. February was the month with the least murders since the end of the civil war in 1992, according to Bukele.
According to reports from the The Inter-American Commission on Human Rights (IACHR), many prisons in El Salvador are overcrowded.
"[T]he ongoing existence of these so-called extraordinary measures is a matter of particular concern, given that they lead to serious violations of the rights of people who are deprived of their freedom, such as prolonged, indefinite isolation in inhumane conditions, effects on health, the suspension of the visiting regime, and obstacles to guaranteeing due process," the IACHR reported.
With just over 600 prisoners per 100,000 inhabitants, according to IACHR, the country has the second highest proportion of prisoners worldwide.