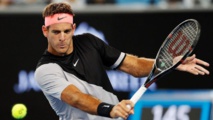 Del Potro
The 30-year-old meets Japan's Yoshihito Nishioka in the second round of the French Open on Thursday after overcoming a sluggish start in his opening 3-6, 6-2, 6-1, 6-4 over Nicolas Jarry of Chile Tuesday.
Del Potro moved well on the Suzanne Lenglen court, showing no more signs of a knee fracture he sustained in October and that made him miss the Australian Open in January.
The Argentine didn't make his full comeback until early this month in Madrid and then reached the Rome quarter-finals before returning to Paris where he was a semi-finalist in 2009 and last year.
"Of course I wanted to be here, because it's a big tournament. I have great memories from the past. And I feel good," he said.
"The main goal to me is trying to stay healthy after this tournament so then I can make a smart schedule on different surface without thinking about my knee, and that would be much better for my future."
Del Potro won his lone grand slam trophy 2009 and the US Open and was in the final there as well last year.
It could have possibly been more finals and titles had he not been sidelined so often over multiple wrist surgeries over the past years.
But he has always fought back, including at the 2016 Olympics in Rio where he beat Novak Djokovic in the first round and Rafael Nadal in the semis before losing the gold medal match against Andy Murray.
He has the same ambition this time around and was satisfied with his performance against the recent Geneva finalist Jarry, having improved after a modest first set.
"I had a slow start because of the weather conditions, because of his
game. We never played each other before, and I was trying to found a way of the game," he said.
"But in the second set, I took control of the match and then I started to play a little bit better. I felt better on court. And then I took all my chances, and I closed the match much better than in the beginning."
The French Open are still somewhat of a start for Del Potro, who is happy to be back in good form so quickly but also knows that some more patience is needed before he can really challenge for the top again.
"I think I'm playing well at the moment, but my main goal is still the knee, my health. I'm looking forward to be 100 per cent in the second part of the year, trying to change my goals on tour and if I get that, I will be happy," he said.