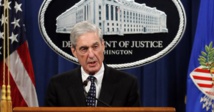 Mueller is to publicly answer questions about his probe into Russian election meddling for the first time in what is likely to be a media spectacle. Democrats in Congress had long stated their desire to hear from the former FBI director in a public hearing even before the subpoena.
"Americans have demanded to hear directly from the Special Counsel so they can understand what he and his team examined, uncovered, and determined about Russia's attack on our democracy, the Trump campaign's acceptance and use of that help, and President Trump and his associates' obstruction of the investigation into that attack," Nadler and House Intelligence Chairman Adam Schiff said in a joint statement.
"Presidential harassment," US President Donald Trump tweeted after Nadler's announcement.
After a 22-month investigation into Russian interference in the 2016 presidential election, Mueller concluded that Russian agents interfered to help Trump, but declined to make a decision whether the White House had obstructed justice.
Mueller made his first public statement on his investigation last month when he closed up his office within the Justice Department.
He said at the time he had no plans to make any further remarks about his investigation beyond what is in his report. He said that if he were asked to testify in Congress, he would not say anything more than what is written in the document.
The report found that Trump and his campaign did not collude with Russia despite numerous contacts between Russians and campaign officials. Mueller declined to decide whether the White House obstructed investigations.
He also said in his statement that if investigators had confidence that the president had not committed a crime, then the report would have stated that.
Under long standing policy, a US president cannot be charged with a crime while in office, and therefore charging Trump was never an option, Mueller said.
The investigation resulted in charges filed against more than 30 individuals, including six people close to Trump. Five of them have been convicted or have pleaded guilty.
The investigation has been a thorn in Trump's side since Mueller was named in May 2017. The Republican president repeatedly has called it a "witch hunt" and accused Mueller of wanting to help Democrats.